Here is a list of the tools i'm using to create my wood work.
Most of the time, i'm using my table saw to make clean and rectangular cuts. I have created a crosscut sled to work more precise. The Einhell TC-TS 2025 U machine was cheap and the blade flange is a little bit unbalanced. Also, the height of the blade moves when cutting a lot, if i don't fix the wheel with a clamp. Someday, i will for sure buy a better one. Until than, i can make still good things with the little crutch.
The first machine i have bought was the jigsaw. It's a must have tool for all hobby wood workers. I'm quite happy with the Bosch Professional GST 160 CE. Because the saw blade move around a bit too much, i created a jigsaw table with guiding rail. Therefore, i can use the tool perfectly to cut sth. out.
When it comes to tools everybody needs, a drilling maschine is a must have, too. The Bosch Professional GSB 16 RE serves a good job. I put it into a Wabeco stand, to make precise drills. The table i created is quite simple. It's easy to use clamps fixing the fence.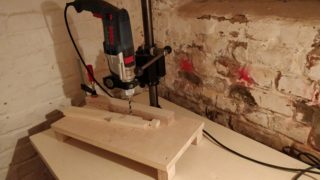 Some additional stuff i bought is the Bosch PSS 250 AE, to make the sanding easier. I have decided myself against a eccentric maschine to get better into corners. Yet, it's difficult to put the tool into a stand, therefore i can't use it as a disc sander replacement. My handsaws are a Stanlay FatMax, which is very handy, and japanese SharkSaw, cutting wood when pulling.
My next invest will be a router. Any suggestions?